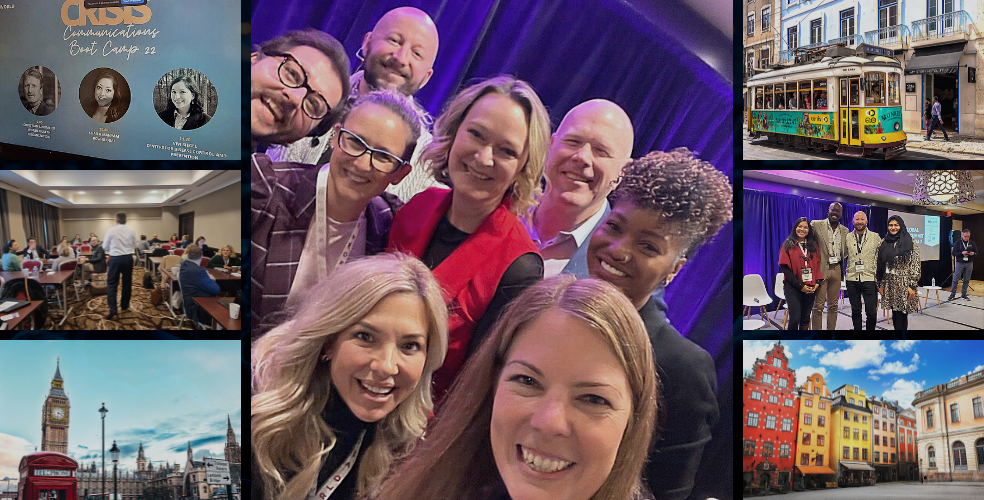 2022: A Reunion of Friends
December 19, 2022
---
It seems like 2022 flew by so quickly, doesn't it? As we closed out the last event of the year in London two weeks ago, we couldn't believe the year was over. The feeling was that there was still so much to be done. Probably a case of post-covid syndrome, right? Spending time doing all the things we missed so much during the last three years.
The year 2022 was intended to bring recovery for many. As many service industries, ours also suffered greatly during COVID. The support we received from our speakers and delegates during these times is beyond words. With our industry opening up and in-person events returning to prominence in 2022, it feels like we were able to shine once more.
During the year of "hybrid events", we organized 30 events in total, 18 of them completely virtual and 12 of them hybrid. Did hybrid events come to an end in 2022? Perhaps the fact that all of our attendees at the Global PR Summit Canada 7 this December in Toronto opted to attend in person means the era of "hybrid" events has come to an end. As with everything else, we'll see what happens in 2023.
In March, we organized our first live events in Canada and the US after almost three years. Our Crisis Communications Boot Camps in Toronto and Atlanta were aimed at helping communicators in North America rewrite their crisis communications strategies for 2022. The year 2022 was definitely the year of our "Crisis Communications Boot Camps". Covid, political and societal turmoil, fake news, and cybercrime have all changed how we communicate. A polarized world makes reputation management difficult. In response to high demand, we organized additional Boot Camps in Zurich, Brussels, Montreal, and London. We will take the Boot Camp to Winnipeg and Chicago in 2023. (On the topic of London, we would like to thank everyone at BT Group for allowing us to host the Boot Camp at the iconic BT Tower. There has never been a venue with a better view in the last 12 years.)
Our most popular HR event, the Global HR Summit, returned to Malta, Croatia and Portugal in 2022. Being able to see so many HR friends after such a long time was like a reunion. It's hard to believe that we will be organizing the 10th edition of the Global HR Summit in Zagreb in 2023. Time flies, doesn't it?
Even though we enjoyed our virtual events in 2022, nothing compares to hosting an event in person. People, energy, interaction, networking. For us, it was like coming home. The delegates seemed to enjoy it as well. In other words, they no longer had to worry about being muted or unmuted.
Our partnership with HCI was stronger than ever in 2022. The demand for our HCI certification trainings remained higher than ever in 2022, which is why, in addition to our virtual programs, we also offered live certification trainings in Toronto, Brussels and Stockholm.
In 2022, we also launched brands that were born virtually but never experienced in person. "Healthcare Communications Boot Camp" was held in Boston for the third time in September. This was the first time the event was held in person after two virtual editions in 2020 and 2021. As a result of the event's success, we are planning to organize it again next March, but this time in Toronto.
In a way, 2022 was a year of many firsts. Four new countries have joined our network: Belgium, Sweden, Switzerland, and the United Kingdom. We also launched a brand-new division in 2022 called "P World Upskilling". As a result of high demand, we now offer all of our HCI trainings in-house, and through our Crisis Communications Club, we offer table top exercises on crisis and reputation management with some of the world's top crisis experts.
It will also be a year of many firsts for us in 2023. Our first-ever "ESG Communications Summit" will be held in Toronto in April, followed by our first-ever "Pharma Communications Summit" in May.
When it comes to "firsts," we are so proud of Patrick Jephson, our friend and speaker. As a former Chief of Staff to Princess Diana, he was a consultant on seasons 5 and 6 of Netflix's "The Crown." It is impossible to describe how excited we were when we saw Jamie Glover portray his character on the show. Having the opportunity to work with so many talented business professionals is an incredible privilege.
Global PR Summit Canada's 7th edition was undoubtedly the highlight of the year. The Summit featured 200 delegates and over 40 speakers discussing the latest trends in communication and public relations. It was our first major event after almost three years of COVID and it was phenomenal. As a matter of fact, it didn't even feel like an event. As if it were a gathering of friends, all of whom were ready to support and guide each other. We are so grateful for the support we have received and continue to receive from our Canadian colleagues.
2022 was a year of uncertainty, but it was also a year of many new and continuing friendships. Throughout our events in 2022, there was a sense of reconnecting with friends. Events were no longer just events. As a result of our work over the years, we have created a network of individuals who are willing to vouch for and support one another. People who are no longer mere colleagues or conference delegates, but who are now friends. This is something we will always be grateful for.
We are in for another challenging year in 2023. There is no way of knowing what will happen for certain. One thing is for sure. We are always here to help you. Together, we can overcome all challenges.
Happy holidays and thank you for such an amazing year.
Love, P World
---