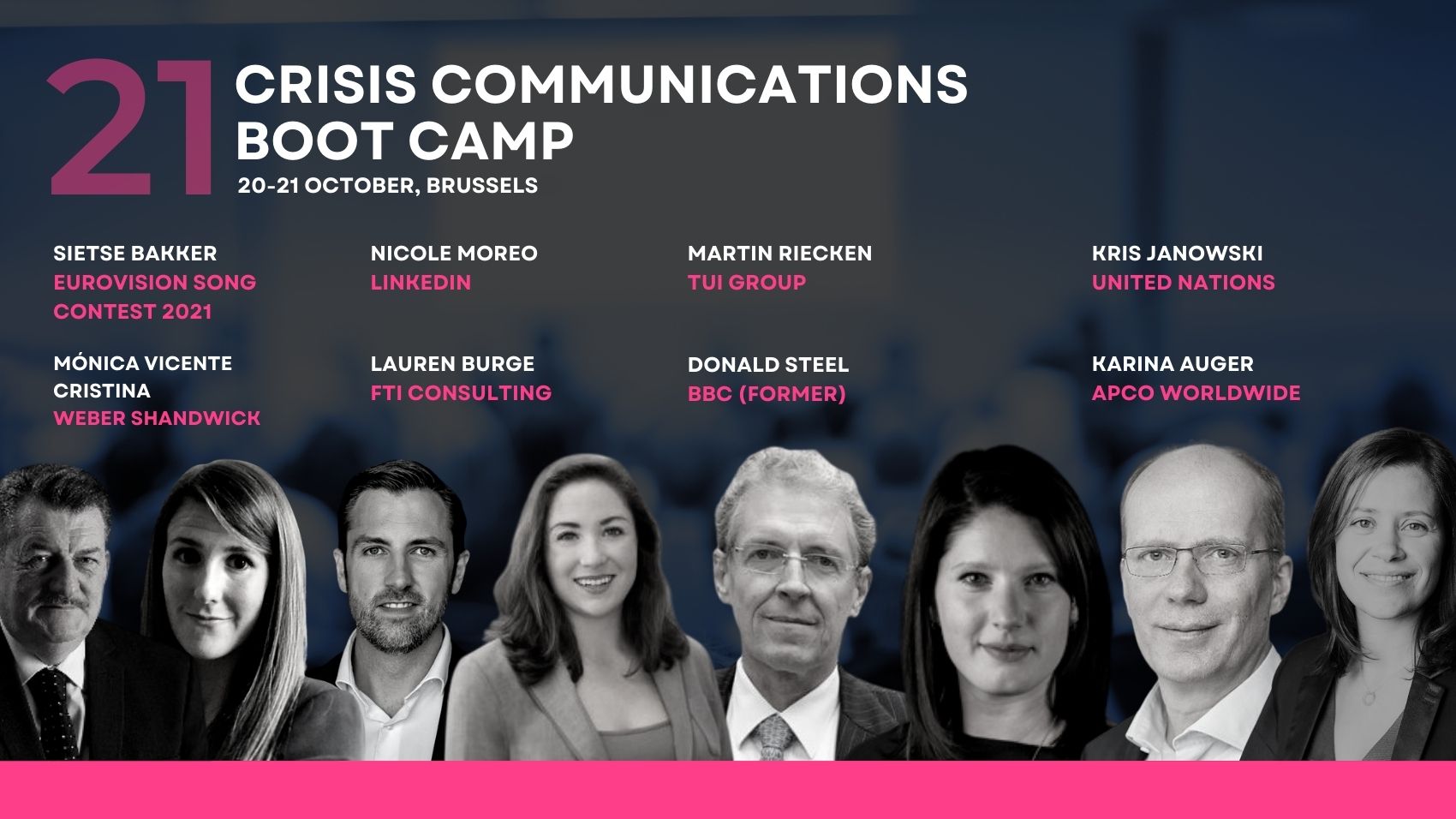 Brussels to Host the 21st Edition of P World's Crisis Communications Boot Camp
May 11, 2022
---
After the phenomenal success in Helsinki and Zurich, Brussels is the third European city to host P World's world-class Crisis Communications Boot Camp.
Scheduled to take place from 20-21 October, the theme of the 21st edition of the Crisis Communications Boot Camp is "crisis planning in times of constant crisis".
The two-day intensive Boot Camp will include 8 keynotes by some of the world's leading crisis and reputation experts, including Patrick Jephson, Former Chief of Staff to Princess Diana and historical consultant for Netflix's "The Crown", Sietse Bakker, Executive Producer at the Eurovision Song Contest 2021, Kris (Krzysztof) Janowski, Spokesperson for the UN Crisis Coordinator in Ukraine at the United Nations and Nicole Moreo, Head of Customer Insights for North America at LinkedIn.
Day two of the Boot Camp includes a full-day crisis simulation workshop with Donald Steel, Former Chief Communications Adviser at BBC.
Donald Steel has built a global reputation as a crisis communicator. For more than 25 years he has given strategic counsel to organizations and high-profile individuals in a range of serious situations, including aircraft incidents, terrorism, kidnapping, serious accidents, executive and personal misconduct, fraud, litigation and inquests and serious regulatory and diplomatic issues.
He was for 11 years, the chief media spokesman of the BBC.
In his own practice, based in London, he worlds with a range of corporate, government, NGO and individual clients across the UK, Europe, the Balkans, the Middle East, North America and Asia Pacific and Australasia. His clients include airlines, hospitals, universities, hotel groups, UN agencies, orchestras, the Eurovision Song Contest, arts venues and high-profile artistes.
Registration for the Boot Camp will open on May 20th. Delegates interested in attending can pre-register here.
With 20 editions in major cities in North America and Europe, including Toronto, Ottawa, Calgary, Montreal, Austin, Atlanta, Chicago, Helsinki and Zurich, P World's Crisis Communications Boot Camp is one of the company's most sought-after events.
Previous delegates at the Boot Camp including senior PR professionals from: Granlund, Propiar, Strategic Communication, Novo Nordisk A/S, Pure Media Company, Aalto University , Helsinki City Executive Office, Finnair, Fortum Power and Heat Oy, Ministry of Social Affairs and Health, Keva, Queens University Belfast, Sahara communications, PwC, EHL Group, Edelman GmbH, Breitling AG, Geistlich Pharma AG, Deloitte GmbH, Kuehne+Nagel, ICRC, Axpo, Services AG, Novartis, Cadillac Fairview, Canada Goose, Invest in Canada, Merck, Bell Media, EY, Veritas Communications, AbbVie, Region of Peel, Foresters Financial, Government of Canada, Purolator, Elections Canada, Sobeys, Capital One, Canadian Tire Corporation, Maple Leaf Foods, Morneau Shepell, Canadian Bankers Association, Scarborough Health Network, Canadian Institute for Health Information (CIHI) , Hydro-Québec, City of Brampton, Royal Ontario , Boehringer Ingelheim, Canadian Red Cross, Department of National Defense, University of Waterloo , Sun Life Financial, RBC, McCain Foods, Innovate BC, Export Development Canada, Ryerson University, Medtronic, CIBC Mellon Global Securities Services Company, Travel Alberta….
---
Tags