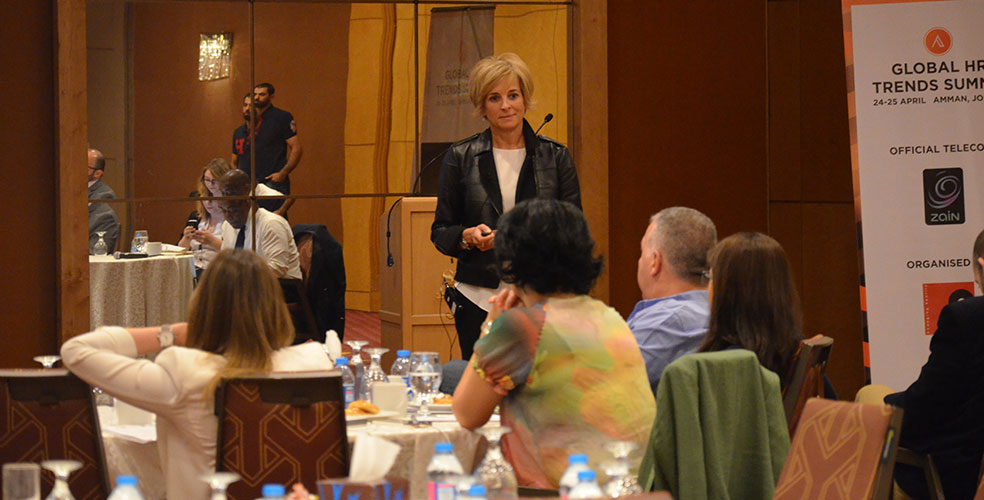 Developing Female Leadership Potential in the Middle East
February 24, 2017
---
The Global Leadership HR Summit in Budva, Montenegro (8-9 May) will feature an inspiring session on How Ericsson Fast Tracks Female Talent to Success in the Middle East presented by Gabriele Metz, Head of Talent Management RMEA at Ericsson.
Gabriele joined Ericsson in 2013 to lead the Talent Management organization in the Middle East region. Prior to joining Ericsson, she spent 18 years at Motorola in various HR capacities. Her passion for strengthening young diverse talent developed during her very first HR role and continues to this day. She is currently driving a program within Ericsson which is focused on empowering and coaching young female talent. She has received regional recognition specifically for her work in diversity and for creating a mentoring circle to address the development of female talent.
Tell us a bit about yourself and your professional journey, how did you decide that Human Resources would be your call?
I got into my first HR role in 1995 when I was looking for a change in my career. My background is in Business Administration, but ever since my experience as a tutor to high school students I have been passionate about developing young talent. At that time I was offered a role to drive an Early career program with Motorola called the European Talent Pool. The program spanned across the Middle East and Africa. This was exactly what I wanted … to find and groom young talent! I ran the program for 4 years and from a starting class of only 2 young graduates, I grew the program to almost 30 participants. Since that time, I have performed in many roles in HR, such as HR Operations, Regional HR, Business Partner and HR Director roles. My current role focuses on Leadership Talent Development, which is the area I enjoy the most, as it has a significant impact on the organization.
Your session will cover diversity and inclusion in the workplace, can you give us a bit of insight of what the audience can expect from your input?
Diversity is a hot topic in organizations all around the world. A lot of research has been completed, and published recently – eg. by McKinsey or Bersin/Deloitte - that proves how an increased diversity impacts the productivity. This makes Diversity and Inclusion a business imperative rather than an HR initiative. Despite diversity and inclusion being widely discussed though, there are still a lot of companies that don't do much about it. I will be sharing insights into how Ericsson made it a business imperative and how we drive D&I consistently throughout the company. I hope this will give others some ideas on how they can start the conversation with their businesses.
You are also very passionate regarding female empowerment and run several projects in Ericsson to promote female talent. Can you share some of your strategies?
Female talent is underrepresented in HighTech in general. Given the proven impact that female leadership has on the financial results of organizations (see McKinsey 'Why Women Matter') it is our aim to develop and grow female leadership potential. We therefore continuously look for ways to empower and groom existing female talent as well as attract more female talent from the outside. One of our main initiatives to develop internal female leadership talent is through our mentoring circles. Through these circles we are able to reach a wide group of female talent and provide them with a framework that helps them in the following ways:
1. To find their strengths
2. To utilize their strengths accordingly
The tools aside, these mentoring circles also offer great networking for female talents, which is another career driver that women often lack. Our mentoring involves coaching of respective line managers as well as strengthening the overall impact of our circles.
You are currently based in Dubai, how would you compare the working environment there with the rest of the world?
Dubai is very dynamic and a great place to be in as a Human Resources professional. The labor laws are fairly ambiguous which require companies to provide a good framework of policies to drive the right behaviors and ethics in the organizations. The best part of Dubai is its diversity and inclusion. It's a living proof that individuals from very different backgrounds can work and live harmoniously together. For someone like me who is passionate about D&I this is the place to be! And – which other country in the world has a Minister of Happiness, as the UAE recently announced?
If you want to learn more about female leadership potential in the workforce with Gabriela, register today for the Global Leadership HR Summit 8-9 May Budva, Montenegro!
---
Tags