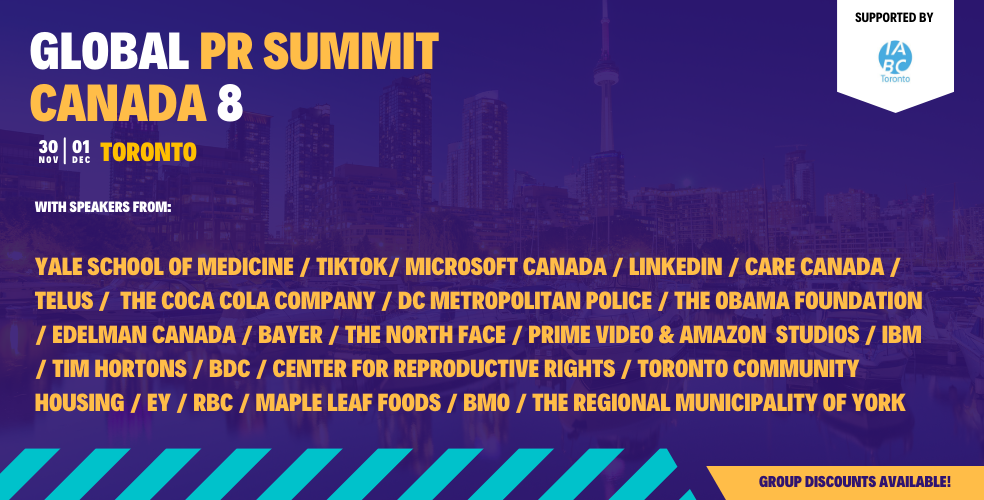 Unleashing the Future of PR: Get Ready for Global PR Summit Canada 8 in Toronto!
August 25, 2023
---
The winds of change are sweeping through the world of Public Relations, and there's no better place to catch this transformative wave than at the upcoming Global PR Summit Canada 8. Mark your calendars for November 30th to December 1st, as Toronto plays host to this cutting-edge event that promises to redefine PR as we know it. With limited seats remaining, it's time to secure your front-row pass to the future of PR.
The Powerhouse Lineup: Keynotes That Inspire
Prepare to step into a realm where brilliance knows no bounds. Imagine being in the presence of thought leaders from renowned institutions like IBM, LinkedIN, Microsoft Canada and Stanford, alongside the driving forces behind transformative initiatives such as the Obama Foundation, the Coca-Cola Company, EY, Maple Leaf Foods, TELUS, TikTok, Prime Video, and Amazon Studios. This convergence of visionary minds is an experience that defies comparison – an opportunity you won't want to overlook.
These communication luminaries will grace the stage with insights, experiences, and strategies that have defined their journeys. It's not just about learning; it's about immersing yourself in the energy of innovation and leveraging their wisdom to supercharge your PR strategies. Want a sneak peek? Check out the complete agenda here,, and get ready to be captivated.
Navigating the Future: PR Trends Unveiled
What's on the horizon for PR in 2024 and beyond? The Global PR Summit Canada 8 is your guide to the trends that will shape the industry's landscape. Buckle up as we delve into a range of critical topics:
AI's New Frontier in PR: Dive into the world of Artificial Intelligence and discover how it's redefining PR, ushering in an era of innovation and efficiency.

From Talk to Action: Diversity, Equity, and Inclusion: It's time to move beyond lip service. Learn concrete steps to drive real Diversity, Equity, and Inclusion progress in the industry.

Mastering the Art of Data: Decode the data puzzle and harness its power to steer data-driven campaigns and make informed decisions.

Purposeful Content with Impact: Explore the art of crafting content that not only resonates but also drives positive social impact, creating a connection that goes beyond the surface.

Crafting ESG Narratives: Discover the secrets of weaving compelling narratives around Environmental, Social, and Governance (ESG) initiatives that truly stand out.

Navigating Polarized Times with Crisis Planning: As polarization becomes the norm, revamp your crisis communication strategies to maintain brand integrity in challenging times.
Unlocking Savings and Benefits
Are you a member of the International Association of Business Communicators (IABC) Toronto? Your dedication comes with perks – enjoy an exclusive 25% discount on your registration. Looking to bring your team along? Group discounts are on the table, starting from 5% and scaling up to an impressive 25% based on the number of delegates you bring.
Seize the Opportunity: Secure Your Spot
As seats are filling up rapidly, now is the time to take action. The Global PR Summit Canada 8 isn't just an event; it's an opportunity to reshape your PR journey. Join us in Toronto, a city pulsating with innovation, as we immerse ourselves in a symphony of insights, strategies, and networking.
Elevate your PR game, connect with industry giants, and set the stage for your PR triumphs. The future of PR is here – make sure you're a part of it.
See you at the summit!
---