About the Event
WELCOME TO THE WELLBEING BOOTCAMP!
A Full-Day Interactive Workshop For HR Leaders Dedicated To Building Your Personal & Organizational Wellbeing.
There has never been a better time than right now for us to stop, breathe and focus on our personal wellbeing, as well as the wellbeing of those around us.
When Covid-19 hit the world, we in business, were already doing a lot of rebuilding and reorganising. We have all been required to change and adapt at breakneck speed for decades now. The pandemic has presented even more challenges for us.
We have experienced loss and had to say goodbye to people, places and ways of doing things, without being given the opportunity to properly grieve our losses. It's the perfect time to make a new, workable plan to secure our well-being, and the health of our organisations, for the future.
During this virtual bootcamp, we will create plans to not just survive but THRIVE during these unprecedented times. Strengthening your personal resilience as well as the flexibility of your teams and the sustainability of your organisation are the best possible ways to THRIVE during the work environment we will face in 2021 and beyond.
What can you expect at the Wellbeing Bootcamp?
Using a ZOOM format, we will gather together HR professionals from, not only diverse locations but also from varied industries. You will discover that you have more in common than you thought with your HR colleagues around the world.
Prior to the workshop, you will receive, digitally, a printable workbook to lead you through the day and help you plan for the future.
Our format is unique in that you might just forget that you're online because you will be interacting on a 1:1 as well as a group basis, along with having time to reflect and write. Our facilitator and our workbook will provide you with the format to instantly apply the tools you discover and plan ways to apply them in 'real-time' on the job.

Facts & Figures
What We Will Explore Together:
Why is wellbeing so important to your success and the success of your company?
How does having a wellbeing culture make your company more competitive?
How can you guide your leaders to understand what healthy leadership looks like?
Why is it important to align personal values with the organization's values and purpose?
How can wellbeing be sustained when unprecedented and difficult conditions persist?
Speakers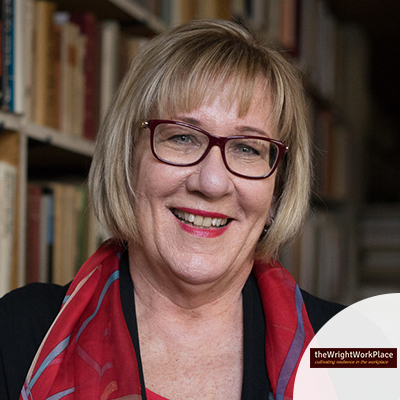 Barbara Wright-Avlitis The Wright Work Place
Agenda
10.00
Intro Module: Getting your morning started and your priorities set.
Become familiar with our workbook and ZOOM format so you can record what you hope to learn, the challenges you will still need to solve and plan what you are going to do with all this valuable information you will gather today.
Set clear objectives for this workshop, as well as for the subject of wellbeing in your personal and professional life. Making today real and practical: Work in small groups to be sure this bootcamp will address your pressing issues.
11.00
Plenary Sharing:
Small groups will re-join the plenary session to share their TOP Priorities for learning and problem-solving today. We'll plan how to cover the topics or how to take problem-solving offline to get you helpful solutions.
11.20
Module 1: Self-care and well-being
Gain some valuable tools that will help you take better care of yourself. You can't take care of others if you don't take care of yourself.
Re-think your current diet, posture, exercise and emotional state. Can you do anything to influence others to be mindful of their personal well-being? Get up from your desk and experience "movement while working." Learn some tips for greater concentration and keeping your thinking clear and sharp.
12.20
Movement Break:
Use some of the breathing and movement techniques you have learned. Take some time to re- charge your batteries with a simple 10-minute routine you can do every day… and teach others to do so they can remain full of energy and enthusiasm for the work they are doing.
12.35
Module 2: Re-Alignment of Self & Organisation
How can you separate work and home life when your work is being done from your home? Is it possible to thrive in isolation when you are working in "remoteness?"
13.30
Lunch break:
You can hardly believe how fast the time flew by this morning. It's amazing that we have been working for three-and-a-half hours already! We have learned from our workshop contributors and from each other. We have a clearer picture of what we need to do so our resilience is at its peak and we will be strong enough to thrive, not just survive, during this pandemic. This afternoon, we are going to apply what we have learned directly to our organisation and how
we can create sustainable resilience for ourselves and the human capital in our organisation
14.15
Welcome back from lunch.
Let's share some thoughts with each other, in our small groups, about
the morning session. What was new? What insights did you have? Anything we missed that you want to know about? What are your ideas about going into the afternoon session?
14.30
Module 3: Infusing Well-Being into the Company
What are the benefits of embedding well-being into your company culture? How can you convince budget holders to invest in this effort?
What does a healthy company look like? How close is your company to your definition of a healthy company?
What's on your "to-do" list to bring wellbeing fully into your personal and work-life?
15.15
Plenary Sharing:
Return to your small groups to discuss your own challenges for infusing well-being into your company. What do you expect to face when you return from this workshop? Solicit the advice of your group members? Do you have a success story to share? Return to the plenary where a few of the groups will offer a synopsis of their group discussion.
15.30
Module 4: Healthy Leader/Healthy Team
What does a healthy leader look like?
What effect does leadership style have on the overall wellness of an organisation? How can you take the pulse of your organisation to manage the risk of burnout?
What do you need to add to your leadership development efforts to build their skills for the pandemic and post-pandemic time?
Meet our expert in Leadership Communications.
Tricks of the trade for improving communications in a virtual working environment. Effective communication with remote teams.
16.15
Movement Break:
Use some of the breathing and movement techniques you have learned. We will take a little time to re-charge your batteries and reflect on the day. Allow yourself some "thinking time" about your own leadership skills and the skills of your organisation's leaders. What can be improved? How?
16.30
Module 5: Grieving As Part of Well-Being
What part does grief play in a Covid-19 and post-pandemic world? Recognizing our own grief and learning from it.
Stepping up leadership empathy during challenging times. Finding out what employees need.
17.15
Module 6 Conclusion and Sustaining Well-Being
How to avoid the "workshop spike and dip" with your enthusiasm about well-being. A real-life story of sustained well-being, "Staying on the Well-Being Train."
18.00
End Of Boot-Camp and Beginning of the Road Ahead…
---