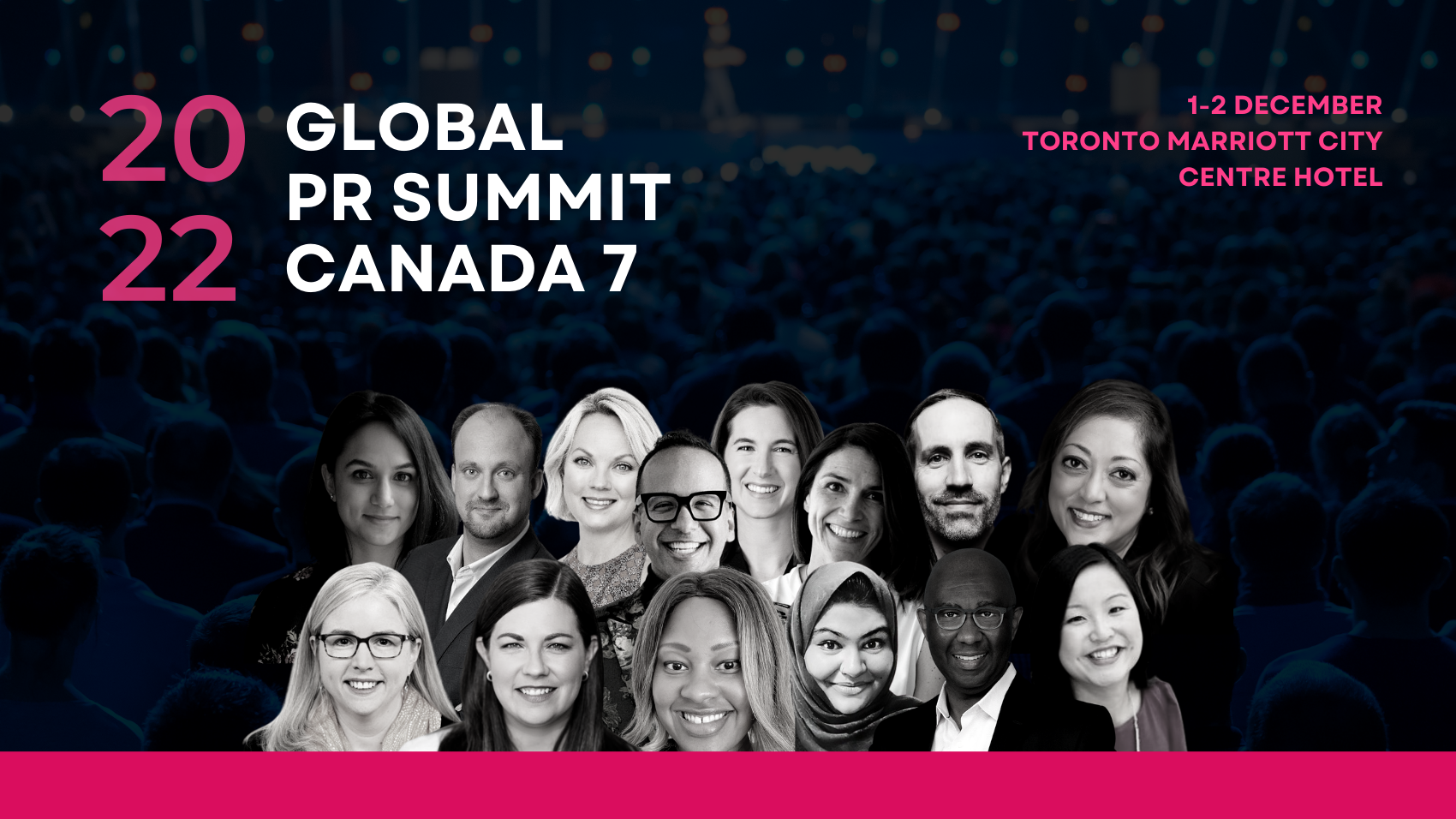 The Global PR Summit Canada Returns to Toronto
May 20, 2022
---
With 30+ speakers and 2 days of interactive discussions on the most pressing issues in today's PR World, the Global PR Summit Canada is back to Toronto from 1-2 December, after a two-year pandemic-enforced hiatus.
A packed agenda
The 7th edition of the Global PR Summit Canada will focus on 5 key areas:
Why trust is vital to your organization
Adopting a 'diversity first' practice in PR
Crisis leadership for the new reality
Employee engagement in a disconnected workplace
The power of PR storytelling
Canada's most anticipated PR event in 2022 includes electrifying keynotes by some of the biggest names in the North American PR industry, including Dave Bauer, Head of External Communications at Amazon Canada Operations and Mary Lowe, Vice President, Public Affairs at Restaurant Brands International.
Communications professionals attending the two-day Summit will also be able to hear presentations by Solenne Marchal Lafeytaud, Chief Corporate Affairs Officer at L'Oreal Canada on the importance of communicating your purpose, Prasanna Ranganathan, Head of Diversity and Belonging at Shopify on the importance of inclusive content, Ashley Korte, Senior Director, Global Crisis Management, Equifax on crisis communications in an age of cyber-crime and Sheryl So, Head, Product Communications, Stripe on creating a communications strategy in an evolving PR landscape.
The Global PR Summit Canada 7 also includes 4 interactive panel discussions on "What Keeps PR People Up at Night", "Diversity and Inclusion - How to Do It Right", "Attracting the Right Talent in a Disconnected Workplace" and "2023 Public Relations Predictions: Top Trends You Need to Know About" with representatives from Argyle PR, PepsiCo Foods Canada, SickKids Foundation, Islamic Relief Canada, Rogers, Code Black Communicator Network, 9 Story Media Group, Twitter, McCain Foods, Weber Shandwick, Edelman and Craft Public Relations.
Super-Early Bird Discounted Tickets
Super-early bird discounted tickets are available only until June 30th and can be purchased here.
About the Organizer
The Global PR Summit Canada is organized by P World, an international creative agency with offices in Skopje, North Macedonia and Montréal, Canada. The company organizes some of the world's biggest events on PR, HR, marketing and customer experience in 40+ countries in North America, Europe, North Africa, Central Asia and the Middle East.
With annual editions in 20+ countries, the Global PR Summit is P World's premium event on the latest trends and challenges in PR and communications.
The company also organizes world-class Boot Camps on crisis communications, healthcare communications, nonprofit communications and PR measurement.
---